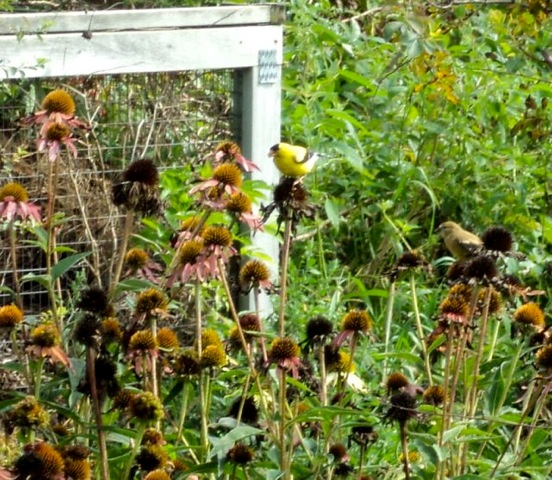 Spring is a time for new beginnings. What better time to plant some flowers, a shrub, or a tree that will attract songbirds to your yard? They provide shelter from the elements and protection from predators. Listed below are some plants that will add interest to your yard and attract songbirds and beneficial insects.

Purple Coneflower
the purple coneflower is a perennial that reseeds itself. If you let it go to seed, you may see goldfinches bobbing in the wind as they enjoy the seeds in the fall.


Flowering Crab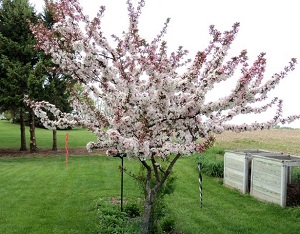 You may already have a flowering crab. Along with the beauty of its blossoms, robins and cedar waxwings will eat the fruit in early spring when food is scarce.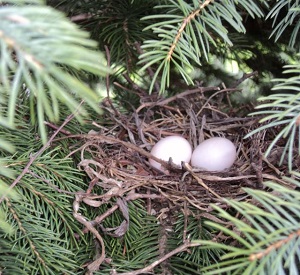 Spruce and Pine
Spruce and pine trees give the birds protection from the elements year round. This makes them a common place for nests.

Petunia
Even the common petunia will attract beautiful butterflies.

Butterfly Bush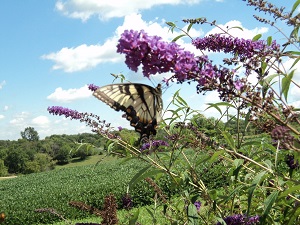 This Giant Swallowtail returned day after day. A sure way to attract butterflies is to plant a butterfly bush. When they are in bloom, from August through the fall, Monarchs and Swallowtails visit daily. The problem with butterfly bushes is that they are not hardy in our climate zone. To remedy that, wait until the ground is frozen and cover the base of the plant with marsh hay or leaves. Be sure to keep it covered until the air has warmed. The covering keeps the ground from freezing and thawing. The lavendar flowering bush below has survived for many years.

Cup Plant
The cup plant, shown, will attract both birds and butterflies. It is a very tall plant, which has large leaves that will hold water. American Goldfinches like to come and drink the water. This Tiger Swallowtail enjoys the pollen from the cup plant. Be sure that it does not go to seed, as it spreads quickly.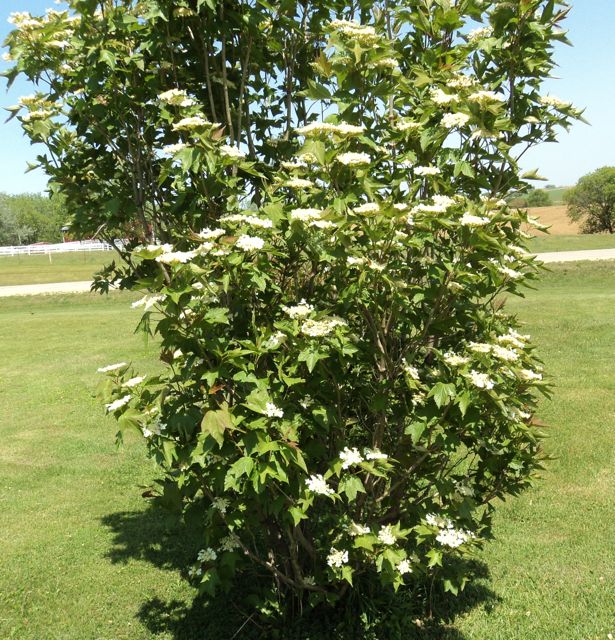 Blue Muffin Viburnum
If you are considering adding a new shrub to your yard, consider a Blue Muffin Viburnum or a Highbush Cranberry. Each will grow into a pleasant shape with white flowers in the spring. The flowers of the Blue Muffin Viburnum become blue berries. Bluebirds will come to your yard just for the berries. The red berries of the Highbush Cranberry will attract many songbirds to your yard.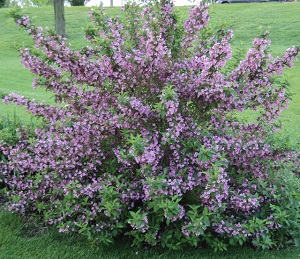 Weigela Shrub
The cone shaped blossoms as well as the colors of the weigela shrub will attract hummingbirds. There are many sizes, ranging from quite large to miniature, so they are easy to fit into any landscape.